Brody Cemetery
Project Description and Orientation Aid
Project description
The project took place during 2011-2012. The project goal was to photograph and map all the Matzevot – tombstones in the new cemetery and to decipher the names and dates.
The project was a cooperative between Gesher Galicia and JewishGen's JOWBR database.
A team from Lviv photographed more than 8,000 photos of about 6,100 graves, most of them are readable.
The inscriptions were translated and the data entered into the template for JewishGen's Online Worldwide Burial Registry (JOWBR).
A searchable database enables the researcher to search by various keywords, and get the stone photo of the front side (and in case there is an inscription on the back side – the back side too), the names in Hebrew and in English letters, the dates (Hebrew and civil) location (line, grave number and GPS coordinates).
Orientation in the cemetery
The Brody new cemetery is located on the north side of Brody the lines are going from south to north, when the old graves are at the east and the new at the west. The line numbering system starts from east to west.
The table below contains the 1st stone (south side) in every 10th line. This table can help the visitor in finding a specific grave, since there are no line signs in the cemetery. This is not a perfect solution since the lines are curved and not straight and many stones are missing which may cause an uncertainty about the line number.
The GPS coordinates may help (a GPS navigator is therefore recommended), but the GPS resolution is about 10X10 meters i.e. 3X3 graves.
The GPS coordinates of the four coordinates of the cemetery are:
| | | |
| --- | --- | --- |
| North East | N50° 06' 07.01" | E25° 08' 34.92" |
| South East | N50° 06' 03.54" | E25° 08' 51.60" |
| South West | N50° 06' 02.70" | E25° 08' 51.08" |
| North West | N50° 06' 06.77" | E25° 08' 48.53" |
<![if !vml]>

<![endif]><![if !vml]>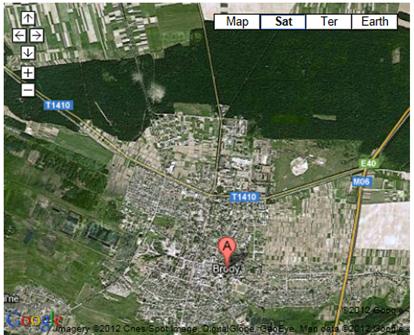 <![endif]>
<![if !vml]> <![endif]>
<![if !vml]>

<![endif]>
<![if !vml]>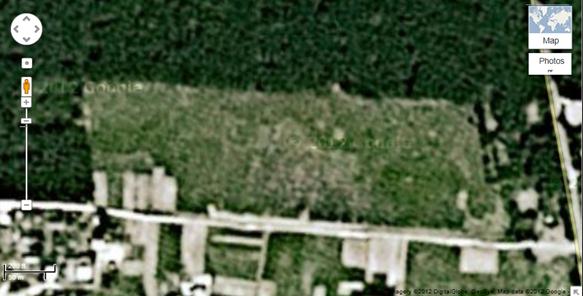 <![endif]>
<![if !vml]>

<![endif]><![if !vml]>

<![endif]>
<![if !vml]>

<![endif]>
<![if !vml]>
<![endif]><![if !mso]>

<![endif]>

Figure 2: Grave Lines Orientation

<![if !mso]>

<![endif]><![if !mso & !vml]> <![endif]><![if !vml]>
<![endif]>
| | | |
| --- | --- | --- |
| L1_0 | Line #1; grave #0; GPS: N50° 06'03.31" E25° 08'50.44" | <![if !vml]><![endif]> |
| L1_1 | Line #1; grave #1; GPS: N50° 06'03.49" E25° 08'50.23" | <![if !vml]><![endif]> |
| L10_1 | Line #10; grave #1; GPS: N50° 06'03.52" E25° 08'49.17" | <![if !vml]><![endif]> |
| L20_1 | Line #20; grave #1; GPS: N50° 06'02.81" E25° 08'48.39" | <![if !vml]><![endif]> |
| L30_1 | Line #30; grave #1; GPS: N50° 06'03.11" E25° 08'47.84" | <![if !vml]><![endif]> |
| L40_1 | Line #40; grave #1; GPS: N50° 06'03.11" E25° 08'47.09" | <![if !vml]><![endif]> |
| L50_1 | Line #50; grave #1; GPS: N50° 06'03.10" E25° 08'46.06" | <![if !vml]><![endif]> |
| L60_1 | Line #60; grave #1; GPS: N50° 06'03.03" E25° 08'45.22" | <![if !vml]><![endif]> |
| L70_1 | Line #70; grave #1; GPS: N50° 06'03.00" E25° 08'44.19" | <![if !vml]><![endif]> |
| L80_1 | Line #80; grave #1; GPS: N50° 06'03.95" E25° 08'43.83" | <![if !vml]><![endif]> |
| L90_1 | Line #90; grave #1; GPS: N50° 06'03.17" E25° 08'42.53" | <![if !vml]><![endif]> |
| L100_1 | Line #100; grave #1; GPS: N50° 06'03.33" E25° 08'41.22" | <![if !vml]><![endif]> |
| L110_1 | Line #110; grave #1; GPS: N50° 06'03.03" E25° 08'39.42" | <![if !vml]><![endif]> |
| L120_1 | Line #120; grave #1; GPS: N50° 06'04.09" E25° 08'38.66" | <![if !vml]><![endif]> |
| L130_1 | Line #130; grave #1; GPS: N50° 06'03.64" E25° 08'37.37" | <![if !vml]><![endif]> |
| L140_1 | Line #140; grave #1; GPS: N50° 06'03.60" E25° 08'35.55" | <![if !vml]><![endif]> |
| L150_1 | Line #150; grave #1; GPS: N50° 06'03.71" E25° 08'34.16" | <![if !vml]><![endif]> |